How do you develop a self-care routine that makes you happy?
How do you develop a self-care routine that makes you happy?

Silent hour, drinks hour, 4 hours. Nice, but at least as important an 'hour' is the 'self-care hour'. How can you improve your well-being in 60 minutes or less? By developing a self-care routine filled with fun self-care activities! Just wait, soon you can't wait to start the day and jump right out of your bed.
I already hear many people think: I am not a morning person! Or the common (good) excuse: I'm busy in the morning. You may be skeptical . You can, but why don't you just try it !? Self-care is extremely important. Develop a self-care routine by spending time every day on activities for your body, mind and soul .
The article ' Make self-care more transparent ' describes self-care dimensions with a few examples of self-care activities. A rough self-care structure has been created. But how can you further develop this structure? Applying separate parts is fun, but how can you develop a coherent routine so that it goes without saying?
Try to make time for self-care every day. It doesn't matter when that is. It is possible in the morning, but also in the evening or during the day. Give it to yourself . You do it for yourself, not for someone else. Self-care ensures, for example, stress reduction and vitality. Accept the challenge and develop a self-care routine for yourself. #metime

Snooze delicious and turn around again: 20 minutes, even half an hour. To find out that it is already late and then you have to run to arrive on time at work. Chances are you haven't taken time for breakfast or a moment of contemplation. Run and fly! Recognizable? Annoying? Sure, but why do you stick to this morning routine?
Take control and opt for a nice morning routine by the method I describe below. Not only good to get out of bed on time, but above all to take care of yourself. And yes, it may not work immediately every day, but start and try it. Of course also applicable for the evenings! #nonetflix
To interrupt your snooze habit and also develop a nice self-care routine, it is useful to follow a fixed pattern. The idea is to develop a routine that you do on your own without thinking intensively.
How do you start? STOP SNOOZING, or get up earlier. Difficult? It may be, but change simply costs energy. An idea: put your phone or alarm clock on the other side of the bedroom. That's how you have to get up.
Then you start paying 20 minutes to your mind, 20 minutes to your body and 20 minutes to your soul. All in all a nice power hour just for and by you! Not an hour? No problem, you choose 10 minutes or even 5 minutes per activity.
Consciously choose self-care activities that appeal to you! Do you not like yoga, but do you like walking? Go for it! It must be fun! The nice thing is that when you really do something for yourself, you also get excited. Your enthusiasm improves your mood and makes getting up a lot easier.
What will it take you further? Your stress level goes down, you develop a more positive view of what the day will bring you and you feel more productive.
Follow the following principles to establish a self-care routine. Give it a try for a week. If you like it, perform the self-care routine for at least 6 weeks . It takes an average of 6 weeks until you are used to changes in your life.
---
Choose an activity for each self-care aspect. An activity for your body, an activity for your mind and an activity for your soul. Spend 20 minutes each.
Put the activities in the Self-Care planner that you can download for free. You can come up with activities yourself or use the article: 30 self-care ideas. The planner also contains a list of self-care activities. So download!
You can select self-care activities based on interest or curiosity. Another tip is to be practical. For the mindset, listen to an inspiring podcast while you make a healthy and delicious breakfast.
---
Aim for half an hour to an hour every morning for this routine.
The morning is an ideal way to start your day. It may seem tedious and impossible to get up an hour earlier, but the goal is to find activities that you enjoy, are excited about, and that fit easily into your schedule. That way you don't mind getting up earlier. You can also go to bed a little earlier in the evening, even if it is only half an hour.
---
The evening is also an option for your self-care routine. You can even spread self-care throughout the day.
In your opinion, is a self-care hour in the morning not doable? The evening is of course also an option for your self-care, as long as it is not just a good resolution. Or you divide your self-care routine into 2 parts by spending 40 minutes in the morning and 20 minutes in the evening on yourself.
You can also start with 10 minutes per activity. Just do what you like! But discipline and dedication are certainly important.
---
You can choose which activity to start with.
First take care of your mindset through meditation or do you prefer to run directly for an energy boost for your body? Everything is possible!
Most importantly, having a routine is a great start to the day, as well as a great ending.
---
To illustrate what my self-care routine looks like. Shortly after getting up, I enjoy doing a short yoga session of 5 to 15 minutes. After yoga I make a healthy breakfast for myself with lots of fruit. During breakfast I listen to an inspiring podcast or an audiobook. Really a golden combination to start the day motivated! I also often add a short meditation of about 5 minutes.
In the evening I write down 3 things almost every night for which I can think of in my 'gratitude journal'. This is just a small simple notebook. Sometimes I forget when fatigue strikes. So work! I also like to do a meditation to end the day. A spray aura spray from Rock Your World and I sleep like a baby.
Besides these regular rituals, I still have regular sports evenings and I occasionally add something. I would like to do a bit more with visualization. And at the moment I am busy with objectives and planning.
Do you want to make a nice and clear self-care planning? Download the free self-care Planner . I made this planner for you so that you can plan your self-care activities every week. Writing down helps with the output, because it becomes visible and clear what you want to do.
You can do something different every day in terms of self-care, but you can also do it differently every day. Sometimes you can also plan something, but in the end you choose other self-care activities. Or ... you really can't make time for a morning. Everything is fine, as long as you are busy with your self-care routine.
Download the free now
MindPiece Self-Care planner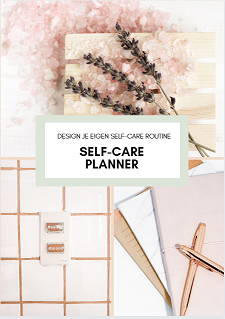 Read more about self-care
Anita - Founder MindPiece and self-care junkie
I also thought that self-care is an evening on the couch, with the necessary refreshments. Through yoga and meditation I found out that self-care involves much more. Since a year I started to seriously investigate what self-care is. You can read about these findings in my blogs. Don't forget to browse the webshop with jewelry that contributes to a positive mindset !